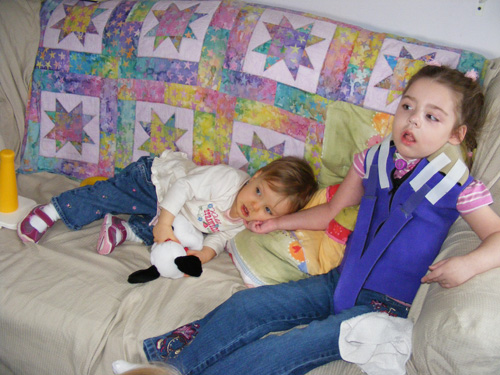 Here's Rachel and Kaleigh hanging out on Rachel's couch.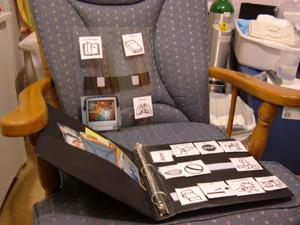 Here's Rachel's communication board that we use at home.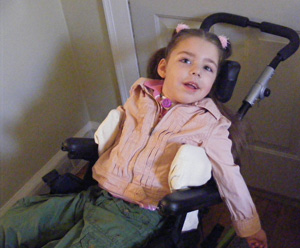 Here's Rachel ready for her first day of school.
[ 2 comments ]
( 40 views ) |
permalink
|
related link
---
Rachel did just awesome, the funny thing was they weren't prepared for her to do so well. I wasn't suprised but I was worried she'd be tired and not cooperate. They said they've never had anyone pick it up as quickly as she did. Other people would take 45 minutes to do what she did in 2 minutes. I don't know if it was even that long. As soon as they had the pictures up on the screen she was looking at them. They had a folder of screens they had thought would be too advanced for her but they quickly realized that wasn't the case.

The first screen was a picture of bubbles more than half the size of the screen and Rachel kept "pushing" it, they'd move to a smaller picture on a different side of the screen and she'd of course find it right away and "push" it. They read a book and the only option they gave was "Turn the page" so I explained that Rachel has a whole board of "read the book" options at home that Kari goes through with her all the time. Needless to say, this was a piece of cake for her too. Then if they went to a menu screen Rachel would be "pushing" buttons and almost recalibrated the computer! They learned quickly to cover the cameras on the bottom.
The only problem came later she wasn't looking over at the objects on the left side of the screen as well. If I encouraged her, "Okay Rachel I know you're working hard, can you look over at the ball?" Then -boom- she did it right after that. But otherwise she was looking at the two pictures on the right side one after the other.
Then we took a break while they put all the pictures on the right side of the screen- maybe 8 or so to have Rachel say how she wanted to play with the baby doll. But after the break Rachel was coughing more and kind of crabby. She wasn't selecting very many of them and none of the purple cicles were showing up so I couldn't tell what she was looking at either. Then I asked her to look at the pink square blanket and -boom- she picked it right after that and didn't even look at the others first. Then a little while later I asked her to look at "get dressed" and the same thing again, she looked at "get dressed" without even glancing at any of the others first. So I'm not sure if it was that she was crabby, sleepy, or what was going on. Once I asked her to do it, she did it pretty quickly afterwards.
Rachel had a great time and we're going back on November 9th to do it again.
[ 4 comments ]
( 23 views ) |
permalink
|
related link
---
Bill called! He'll be working in the area again so hopefully he'll have the chance to stop by and visit and see how big Rachel and Kaleigh have gotten.
[ add comment ]
|
permalink
|
related link
---
Circle Time
We practiced our "Good Morning" song, counted up to 1 on the calender (because it was the first of Oct) and our Weather Watcher, Rachel, let us know that it was "cloudy" outside. (The kids pick out what Weather Bear has to wear based on the weather outside that day.) Then we all participated in "The Very Hungry Pumpkin" color label activity. It involved an orange pumpkin that ate all different colored foods. Each time he ate a different colored food, he turned that color.
Then they had playtime.
Art
We created beautiful "Finger Leaf Trees". This required the kids to identify the colors orange, red and yellow and then used their fingers to dab each color onto a tree until it was a beautiful fall tree. Messy but fun! We also used a pom pom dipped in orange paint to stamp pumpkins on a vine.
And then Rachel leaves right after art. One of the other boys that used to be shy around Rachel came up and gave her a kiss on the arm. (Luke says he's going to school to guard her from all these boys

)
Kari's training in a new PCA and so after all three got home Kari has been showing her all the activities that she does with Rachel but only for a few minutes at a time so they can fit it all in. By the time I got home Rachel was tuckered out!
[ add comment ]
|
permalink
|
related link
---
I'm going to have to go through her paperwork again and see what we can get rid of as well, one of the old drawers had paperwork in it and I won't do that to this dresser because I'm concerned the bottom of the drawer would fall out. So yeah, I'll be organizing paperwork and catching up on my school stuff so it will probably be a bit longer until I update with photos.
[ add comment ]
|
permalink
|
related link
---
And in her Rachel-voice she said, "Noooooo."

She said it with a big smile on her face because she knew he was teasing.
We're trying out a neck orthotic that will help hold up her head when she using her walker. Rachel seemed to like it yesterday.
[ 1 comment ]
( 32 views ) |
permalink
|
related link
---
In the meantime I will cheat and used Rachel's teacher's e-mail to update on how school went on Monday:
"Hello...Rachel did great yesterday. It is so nice, now that we split the class. I actually have time to sit with Rachel and do some work. We practiced colors...I'm learning from Kari how to interpret her gazes and blinking. She had her switch all programmed during circle time with color choices, a morning greeting and "Old MacDonald" animal choices. She stayed awake the entire class and I know she enjoyed herself. She had PT @ 8:30 and her Speech/Lang teacher came to assist her during Circle Time. During Art, she stamped different size apples on a tree and then stamped smaller apples onto the letter Aa."
Thanks Dina!
[ add comment ]
|
permalink
|
related link
---
[ add comment ]
|
permalink
|
related link
---

"Rachel was smiley this morning, fixed her hair then off to school. Rachel seemed to enjoy herself. She colored a book about fall and was very vocal during occupational therapy. She "danced" and then watched all the kids crawl through a tunnel and act wild. She was all smiles and very vocal. She had two friends around her today, Audrey and Taylor. She did a little talking to them. They also played a game where they passed a ball to each other in a circle."
[ add comment ]
|
permalink
|
related link
---
[ add comment ]
|
permalink
|
related link
---
[ add comment ]
|
permalink
|
related link
---
[ add comment ]
|
permalink
|
related link
---

Kaleigh did a pretty good job playing in the therapy room. She's walking a little more now and for longer distances.
Rachel's getting the cold that Luke and I have had for the past couple of days. She was up at 4am and not feeling very good so hopefully she kicks this soon.
[ add comment ]
|
permalink
|
related link
---

[ add comment ]
|
permalink
|
related link
---
Therapy went well, they did the usual stuff. Now that Rachel has school for three days out of the week we're going down to only one day of therapy. Rachel is going to be really busy!
[ 2 comments ]
( 17 views ) |
permalink
|
related link
---
Back
Next